A new Liver Imaging Reporting and Data System (LI-RADS) algorithm that uses imaging to assess response to liver cancer treatment is effective at determining which tumors are viable and which have been eradicated, according to research presented Monday.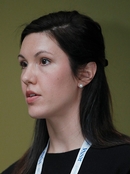 First published in 2011, LI-RADS created a classification system for CT and MRI findings in patients with suspected hepatocellular carcinoma (HCC), the most common type of liver cancer. LI-RADS categories progress from definitely benign, or LR1, to LR5 or definitely HCC.
An update to LI-RADS in 2017 added a treatment response algorithm with three categories for treated liver tumors: viable, meaning that at least some of the cancer is still active; non-viable, which indicates the tumor is entirely destroyed; and equivocal, meaning that a definitive conclusion is not possible based on current information.
There has been little published data on the performance of this new algorithm for predicting the degree of necrosis induced in individual lesions by loco-regional treatments that focus on shrinking or eliminating the tumors through a variety of means, including radiation and chemotherapy, said lead author, Erin Shropshire, MD, a fourth-year radiology resident at the Duke University School of Medicine in Durham, NC.


"With the shortage of transplant livers, loco-regional treatments have become important as a way to help reduce pain and symptoms in patients and act as bridges to a transplant," she said.
For the study, Dr. Shropshire and colleagues evaluated the treatment response algorithm in 45 patients who had undergone transarterial embolization, also known as bland embolization, for potential HCC. In transarterial embolization, small particles are injected into a liver artery to block the tumor's blood supply. If the treatment is effective, the oxygen-starved tumor will shrink and die.
Three radiologists independently assessed all tumors before embolization using LI-RADS criteria. After treatment, the radiologists re-evaluated the tumors with the 2017 treatment response algorithm. The patients subsequently underwent liver transplantation, allowing the researchers to directly examine their livers and correlate the status of the tumors with the LI-RADS treatment response algorithm.
The treatment algorithm performed strongly in predicting viable tumor. Of the 26 tumors identified as viable by the algorithm, 24 were confirmed on pathology. The algorithm delivered a finding of equivocal in 17 lesions; subsequent examination revealed 12 of these 17 lesions to be incompletely necrotic, suggesting that an equivocal determination is likely to represent a viable tumor.
Treatment Response Algorithm Effective
Dr. Shropshire said the overall results for the treatment response algorithm were similar to those of published data on LI-RADS, meaning that the algorithm appears to be working as well as existing methods. The algorithm's effectiveness at identifying incomplete tumor necrosis could be useful in selecting patients for additional treatment.
"The algorithm was pretty effective at saying, 'Yes, there is viable disease here,' or 'No, this lesion is not non-viable,'" Dr. Shropshire said. "But we still have room for improvement with lesions that are equivocal."
Future research will examine the treatment response algorithm in other types of loco-regional treatments.
"Since we only used bland embolization in the study, there are still lots of unanswered questions," Dr. Shropshire said. "We would like to look at other kinds of embolization, like radioactive embolization and chemoembolization, and we would like to tweak the accuracy of the algorithm to improve its positive predictive value."