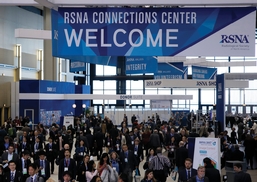 Located in the Lakeside Center East, on Level 3, the RSNA Connections Center is the place to learn more about RSNA, experience popular entertainment or enjoy a break from the meeting. Whether you have questions about your membership, are looking to make a donation to support Research & Education (R&E) grants or need a place to charge your phone, the Connections Center has you covered.
Digital Support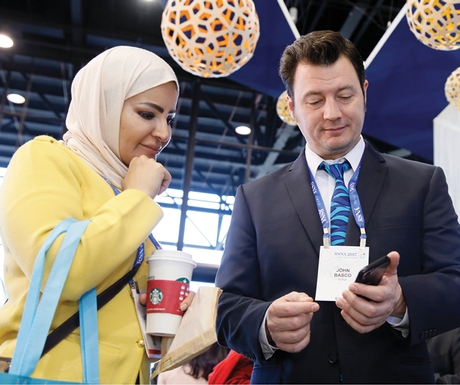 RSNA technology experts are available to provide one-on-one digital help with Meeting Central, the RSNA Meeting App or the Virtual Meeting.
Information Desk
Visit RSNA staff at the Information Desk for answers to all your questions about RSNA 2018.
Membership & Resources
Get answers to all your membership questions, including how to make the most of your membership benefits, journal subscriptions, Career Connect, the RSNA Online Learning Center, RadiologyInfo.org®, Radiology Cares® and Image Wisely®.
You can also select your assigned ribbon(s) at the self-serve ribbon wall. Staff onsite can assist with your ribbon selection.
Learn more about RSNA services including RSNA's international programs such as the the Derek Harwood-Nash International Fellowship and the Introduction to Research for International Young Academics.
R&E Foundation Donor Suite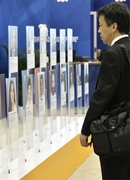 The Research and Education (R&E) Foundation Donors Suite offers light refreshments, computers, a coat room and comfortable furniture exclusively for donors who contribute $300 or more to the Foundation. Stop by to learn more about R&E Foundation activities, including the new R&E Education Grants. Read about current grant and award recipients, as well as individual, private practice and corporate donors who provide funding for grants.
RSNA Shop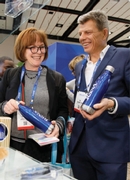 If you're looking for RSNA-branded merchandise to take home, the RSNA Shop is your go-to resource. This year, you'll find holiday ornaments, water bottles, scarves, ties, luggage tags, T-shirts and fleece pullovers, along with the popular plush animals.
Discovery Theater Features Live Entertainment, RSNA Programming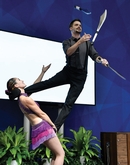 Located within the Connections Center, Discovery Theater features unique discussions and presentations about RSNA programs and research from the field, along with special musical and performance acts. Enjoy casual seating options where you can relax and recharge, both your body and your phone, while listening to music, watching a presentation or networking with colleagues.
The highly-anticipated Diagnosis Live™ Resident Competition will be held on Monday at 2 p.m. Fourteen residency programs will go head-to-head for the ultimate residency program bragging rights.
Visit Meeting Central at Meeting.RSNA.org for the full schedule and to add events to My Agenda.
Discovery Theater Events Include:
Sunday, Nov. 25
Navigating RSNA/Chicago (en français), 9 a.m.
Navigating RSNA/Chicago (en español), 9:35 a.m.
Navigating RSNA/Chicago (em português) 10:10 a.m.
The Craig Russo Latin Jazz Project (jazz ensemble), 11:45 a.m. – 1:30 p.m.
First-Time Attendee Orientation, 2– 3 p.m.
Navigating RSNA on a Dime, 3:15 p.m.
Monday, Nov. 26
RSNA is Publishing More! Three New Journals Launching in 2019, 9 a.m.
RadioGraphics Features for Readers, 9:35 a.m.
RSNA Artificial Intelligence and Machine Learning Initiatives, 10:10 a.m.
Doc Mintz's Vat of Chocolate (jazz ensemble), 12 – 1 p.m.
How to Make Radiology More Patient-Centered, 3:30 p.m.
Tuesday, Nov. 27
Pay it Forward: An R&E Education Scholar Grant Case Study, 9:35 a.m.
Sean Bott (mentalist and comedic entertainer), 12 – 1 p.m.
Who Put a Gorilla in My Lung CT and Why? Medical Image Perception Research at RSNA, 1:45 a.m.
ABR Online Longitudinal Assessment (OLA): A Better Way to Assess Your Knowledge, 2 p.m.
Chicago Kingsnakes (Chicago blues band), 3:30 – 4:30 p.m.
Wednesday, Nov. 28
3D Printing in Radiology: What We Have Learned and Where We are Going, 9:35 a.m.
RSNA Research and Workshops, 10:15 a.m.
Kaleidoscope Eyes (Beatles tribute band), 12 – 1:30 p.m.
Thursday, Nov. 29
RSNA Diagnosis Live™ Demonstration, 10:30 a.m.
The Ron Burgundys (1960-80s tribute band), 12 – 1:30 p.m.