Located in Lakeside Center East, Level 3, the Learning Center houses thousands of education exhibits and scientific posters covering a range of subspecialties. Scientific posters will be displayed within each learning community. During the lunch hour, authors will be present for Poster Discussions. Visit Meeting Central for days/times.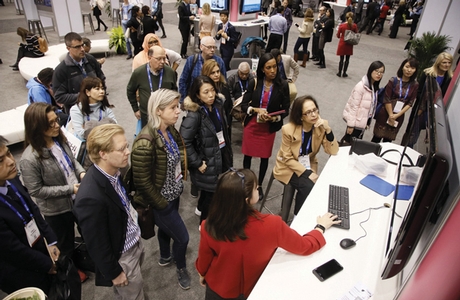 Artificial Intelligence (AI) Community
The AI Community will feature demonstrations, proffered posters and exhibits highlighting the applications of machine learning and AI for medical imaging, including how these emerging tools and methodologies may improve diagnostic care.
Crowds Cure Cancer: Help Annotate Data from the Cancer Imaging Archive
Participate in this crowd-sourcing initiative to generate valuable data on deep learning, radiomics and radiogenomics and accelerate quantitative imaging research. Images are provided by the National Cancer Institute's Cancer Imaging Archive (TCIA). Because many cases lack the tumor-location labels that computer scientists need to jump-start their research, participants will be asked to anonymously review cases and visually mark tumor locations. TCIA will share this data to accelerate cancer research. Attendees who complete the project will receive an RSNA ribbon. The Crowds Cure Cancer booth will be open all day throughout the week.
NCI Image Perception Lab
Researchers supported by the National Cancer Institute (NCI) will conduct studies on radiologic image perception at RSNA 2018. Attendees can learn about this important area of research, and if they wish, participate in the studies as volunteers.
Deep Learning Classroom
NVIDIA Deep Learning Institute presents a weeklong RSNA Deep Learning Classroom, to include nearly two-dozen 90-minute courses, including introductory courses and specialty topics. This is a hands-on opportunity for practicing radiologists to understand how AI is clinically relevant to radiology and for those with an understanding of the technology to discover deeper insights. Bring your laptop to work with machine learning tools, write algorithms and improve your understanding of this growing technology.
Ask the Expert: Media Production Tips and Tricks
Attendees looking for assistance with graphic arts for presentations or publications can visit the Learning Center and speak with a graphic media expert. An expert will be on hand to answer questions on topics such as preparing images for publication, working in a PowerPoint template and adding videos to a presentation.
CME Learning Checkpoint
This interactive activity will allow attendees to study award-winning hard-copy exhibits from RSNA 2017 and take the corresponding quiz on their mobile devices or laptops. Attendees receive 0.5 AMA PRA Category 1 Credit™ for each completed quiz.
Quality Improvement (QI) Reports Walk
Join experts in QI in radiology as they walk through the QI reports highlighting examples of great work and sound methodology. Wear your walking shoes and come prepared for an interactive session. Those interested in leading and publishing QI projects will find this especially valuable. The QI report walk will be held Monday, Nov. 26, at 3 p.m., in the Quality Improvement Reports section.