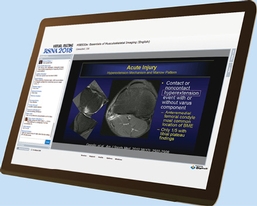 Experience Tomorrow's Radiology Today From Anywhere
• The RSNA 2018 Virtual Meeting allows attendees to access a wide array of educational programming, scientific presentations, educational exhibits, digital scientific posters and more both during and after the meeting.
• With more than 200 live-streamed and on-demand courses, you can maximize your meeting experience when and where you want on the device of your choice. RSNA 2018 registered attendees and medical professionals around the globe can participate in the Virtual Meeting.
• The Virtual Meeting is available 24 hours a day beginning at 8 a.m. Central Time (CT) on Saturday, Nov. 24, with sessions beginning that afternoon. Live programming will run simultaneous to the annual meeting. Access to Virtual Meeting programming will remain on demand through April 30, 2019, at 4 p.m. (CT).
• The RSNA 2018 Virtual Meeting offers CME credit for all live-viewed and Cases of the Day with a course evaluation for live sessions or submission of a correct diagnoses for Cases of the Day. Select on-demand sessions offer CME upon course evaluation.
• Engage with other professionals around the world by accessing the Virtual Community, the live chat capability that allows you to discuss course content during live sessions at RSNA 2018.
• Flexible pricing allows you to attend the Virtual Meeting in conjunction with the Live Meeting or as a stand-alone option. Retired RSNA members receive free access to the Virtual Meeting.