RSNA President Vijay M. Rao, MD, will open RSNA 2018 with her President's Address, "How Emerging Technology Will Empower Tomorrow's Radiologists to Provide Better Patient Care." She will discuss how radiologists can harness the rapid advances in artificial intelligence (AI) and related technologies to improve the quality of care they provide to patients, as well as to increase their stature within the medical community and the personal and professional satisfaction they derive from their work. Below, Dr. Rao shares her thoughts about the changes ahead for today's radiologists.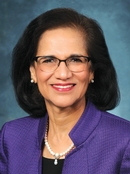 Daily Bulletin: What are the most impactful technological developments affecting radiology today?
Vijay M. Rao, MD: AI and Machine Learning applications are already proving themselves extremely useful in radiology, and we've only begun to scratch the surface. These applications provide tools to make us more efficient, freeing up time for radiologists to become more visible and patient-centered. Technological innovations are driving toward making imaging faster, safer, quantitative, precise and affordable. Advances in imaging biomarkers combined with genomic information will allow us to make a more meaningful contribution to personalized medicine in the years to come.
DB: What new skills do radiologists need to develop in order to be successful in the future?
VMR: The time has come for radiologists to position themselves to provide leadership in driving this field to the next level. Radiologists will have to increase their knowledge of all aspects of diseases and data science.
As we continue our transition to a value-based practice model, radiologists need to embrace that approach to remain relevant. I also believe that health services research will play a big role. To be successful, radiologists should investigate ways to add value and reduce waste in health care. These topics will continue to be critically important to our field into the future.
DB: What are you most excited about in this year's annual meeting program?
VMR: We have an outstanding program planned for RSNA 2018, with exciting new research in numerous subspecialties. The amount of high-quality research being conducted and presented is a reminder that radiology leads the way in health care innovation. There are new discoveries in AI and machine learning research every day. This field excites me because these technologies have the potential to expand our diagnostic and therapeutic capabilities in ways that were not possible a decade ago.
DB: How much do you think radiology will have changed 10 years from now?
VMR: It's difficult to predict the future of a specialty that advances at such a rapid pace, but I believe that over the next decade we will harness the potential of today's burgeoning AI technology to make radiologists more efficient and quantitative in their practices. By embracing these new developments in our field, we can truly become patient-centered and thrive as the value-based health care model evolves.
Dr. Rao has served on the RSNA Board of Directors since 2011. She is the David C. Levin Professor and Chair of Radiology at Sidney Kimmel Medical College of Thomas Jefferson University and senior vice president and chair of Enterprise Radiology and Imaging at Jefferson Health in Philadelphia.
Recognized as one of the leading experts on imaging of the head and neck, Dr. Rao has served as president of the American Society of Head and Neck Radiology, the Association of Program Directors in Radiology (APDR) and the American Association for Women Radiologists (AAWR). She serves as a trustee of the RSNA R&E Foundation and is also a member of the board of the Academy for Radiology & Biomedical Imaging Research and the Pennsylvania Radiologic Society.
Dr. Rao received the APDR Achievement Award and the Distinguished Radiologist Award from the American Association of Radiologists of Indian Origin. She was awarded gold medals by the Association of University Radiologists and the Asian Oceanic Society of Radiology. She received the AAWR Marie Curie Award. She has been presented honorary membership in the Israel Society of Radiology and the French Society of Radiology (SFR) and she was also awarded the SFR medal of honor.