Change Healthcare Helps Radiologists Achieve Outcomes
Until recently, many radiologists were familiar with a modest definition of enterprise imaging that emphasized the ability to share patient information throughout a department or even across an entire health care facility. But as the concept of enterprise imaging matures, so does its definition.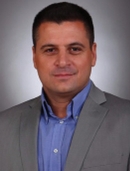 "The use of enterprise imaging solutions to manage information across all facilities and all departments is a strong starting place," said Tomer Levy, vice president, strategic portfolio at Change Healthcare. "But its true purpose goes beyond simply managing the flow of information. By leveraging the data contained in enterprise imaging solutions, organizations should take important steps to improve clinical, financial and operational outcomes."
No matter how you define it, as health care transitions from a volume-based model to a value-based model, radiologists have moved a long way from simply reading images and making recommendations.
In terms of clinical care, Change Healthcare is shifting from the departmental performance with key performance indicators such as turnaround time, to focus on the higher level enterprise outcomes such as the emergency department throughput or improving compliance with incidental finding follow-ups. In one case study, Change Healthcare demonstrated how incidental finding follow-up compliance improved from 64 to 93 percent, according to Levy.
Operationally, successful enterprise imaging strategies should reduce cyber security risks, improve transparency and allow the organization to be more agile in responding to changing business needs.
The National Integrated Medical Imaging System, which serves 40 hospitals in Ireland, uses Change Healthcare's platform to process the workload of 35,000 active users who perform 2.5 million exams every year. At its peak, the platform can transmit 600,000 HL7 text messages per hour.
Finally, Levy said, enterprise imaging systems need to show return on investment (ROI) from the first day.
"That is the macro-trend in the imaging market today," he said. "There are heavy cost pressures, and they will dominate the discussion for the foreseeable future. The industry cannot sustain the huge capital spend and operational costs must be reduced. Leaders expect ROI to be clear, measurable and committed to."
One Change Healthcare partner, a private hospital-based practice with 25 radiologists, has seen an overall efficiency increase of 3 percent since implementing Change Healthcare's platform.
It has eliminated the need for processing images an additional eight hours each day after 5 p.m. Over a 15-week period, during which 10 radiologists might have been working, that has translated into a savings of $145,000.
In many ways, this is just the beginning. According to Levy, once the full potential of artificial intelligence and cloud computing is tapped, there may be no limits to the clinical, operational and financial benefits enterprise imaging can provide.
There is still work to do, however.
"In medical imaging, we know that data is our greatest and most underutilized strategic asset," said Michael O'Connell, PhD, chief analytics officer for TIBCO Software, which has a strategic relationship with Change Healthcare.
But first data needs to be more accessible, and that requires some infrastructure.
According to Levy, three key pieces need to align before such assets become truly beneficial: Enterprise imaging, artificial intelligence and cloud adoption. "Once all three of those meet together, we will see the impact."