When Janki Patel was completing her radiology clerkship at Rutgers Robert Wood Johnson Medical School, she wished she had on-call experience. However, since the radiology clerkship was an elective, students were not required to work outside of normal business hours.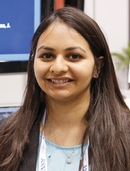 In a Sunday session, "Introducing On-Call into Medical Student Radiology Clerkship: Our Experience," Patel, now a fourth-year medical student, described a research project to determine whether an on-call experience provides educational value to medical students in an elective radiology clerkship. Traditionally, on-call experiences are part of clerkships such as medicine, surgery, ob-gyn and emergency medicine, but generally not radiology.
"We thought it was important to show medical students who are going to be future physicians that radiology has a role to play 24-7, 365 days a year in health care and patient management," Patel said.
In the study, 129 medical students were required to take calls on two evenings for two hours each night from 5 p.m. to 7 p.m. as part of their four-week diagnostic radiology clerkship. The on-call experience comprised 15 percent of the final grade and each student was asked to anonymously evaluate the usefulness of the on-call component at the end of their experience.
Most Students Value On-Call Experience
Medical students named a variety of valuable experiences during their on-call hours including collecting patient history, interpreting images, contacting the primary care physician and accompanying patients for exams or procedures.
"We wanted it to be an active experience, not a passive one," Patel said. It helped that the 5 p.m. to 7 p.m. hours are typically busy for radiologists, so students were able to get a full experience of what it will be like as a radiologist in the field, she said.
At the end of the radiology clerkship, a majority of students said they were satisfied with their experience. Of the responses, 49.7 percent said the on-call experience was somewhat useful and 44.3 percent said the call experience was very useful.
"A lot of the students were amazed at how hard radiology residents work after hours," Patel said. "It's important to show that radiology is no longer an 8 a.m. to 5 p.m. position like people may think."
Regarding their interaction with the residents, 69.5 percent of evaluators were very satisfied and 28 percent were satisfied. Patel said it was gratifying that so many of her fellow students had a good experience and she hopes that by sharing her research at RSNA, other medical schools will incorporate on-call experiences into their radiology rotations, as well as those of other elective clerkships.
"We want other schools to take this back and implement it into their programs," she said.
Patel's mentor, Judith Amorosa, MD, professor of radiology at Rutgers University's Robert Wood Johnson Medical School, said the experience of on-call radiology during clerkship is beneficial for all medical students, even those who do not become radiologists.
"It's about giving them the experience so that when they are in the field they recognize that radiologists are busy. We are working around the clock and we want physicians in all fields to appreciate that," Dr. Amorosa said.