In the emergency department (ED), imaging studies are requested by a wide spectrum of health care providers, many of whom are not educated in the finer details of imaging protocols. This lack of expertise can lead to suboptimal diagnostic imaging resulting in decreased diagnostic accuracy, unnecessary cost and added radiation.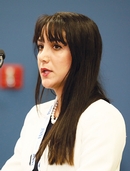 A new study presented on Sunday looked at the value of radiologists' input on diagnostic imaging at the time of order entry.
"Order entry algorithms have been implemented in many hospitals and institutes, but it varies," said Sarvenaz Pourjabbar, MD, Yale School of Medicine, New Haven, CT. "The challenge is picking the right study for the right indication, because diagnostic imaging is meant to answer a clinical question. If we do not perform the right study to best answer that question, we are not giving the patient the best possible care."
Researchers reviewed 631 eligible exam orders from one ED. Specifically reviewed were CT/CTA orders of the chest, abdomen or pelvis. These orders were requested over the course of 90 ED shifts (10 p.m. to 7 a.m.) from September 2017 until March 2018.
Out of the eligible exam orders, 14 percent were modified and, of these modifications, 15 percent resulted in cancellations. More than 70 percent of the cancellations were made due to lack of evidence-based clinical indication.
Additionally, 84 percent of the modified orders were done so because contrast was improperly added or omitted. Suggested order alterations were more often related to oral contrast (52 percent) than intravenous contrast (31 percent).
The anatomic area scanned was changed in 15 percent of modified orders, while in 13 percent of modified orders, the type of study was changed entirely.
"There are tangible benefits to patient care resulting from radiology consultation on all aspects of imaging from ordering to recommendations," Dr. Pourjabbar said. "Per our study results, 14 per 100 patients benefited from a radiologist overseeing the requested orders and the use of contrast was optimized in 74 percent of cases."
Team Approach Improves Care
Interactions between radiologists and ordering physicians can improve patient care and provide an opportunity to educate clinicians for future orders.
In addition, this added layer of quality control can be facilitated by trained radiology staff, predefined protocols and an embedded interface into the electronic medical record.
"In the era of value-based health care, it is essential to tailor patients' imaging to address specific clinical questions at a reasonable cost," Dr. Pourjabbar said. "Having radiology staff available to identify suboptimal diagnostic CT orders can add value to patient care by optimizing contrast protocols, ensuring the clinical question will be addressed and avoiding redundant examinations."