The rise of technologies, such as artificial intelligence and machine learning, will never replace radiologists, but instead provide the opportunity to enhance and transform the practice of radiology to the benefit of both patients and medicine, according to RSNA President Vijay M. Rao, MD.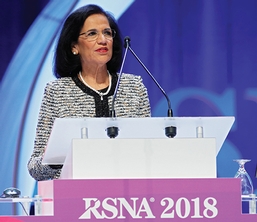 "No matter where I travel, I see the hype, the hope and the fear created by the rapid rise of technologies, such as artificial intelligence and machine learning," Dr. Rao told the audience in Arie Crown Theater for Sunday's Opening Session. "I believe more firmly than ever that AI has the potential to enhance our profession and transform the practice of radiology worldwide. It will allow radiologists to spend more time on initiatives that will benefit both patients and physicians."
In her President's Address, Dr. Rao looked into the future to imagine how the growth in digital imaging and the overall explosion of data now available in medicine will address some of the current challenges faced in radiology.
She called for a rebranding of reading rooms into digital diagnostic data hubs where clinical teams could gather, or even participate virtually, to make patient management decisions as a group.
The diagnostic data hub could be where radiologists would rely on AI to aggregate the current imaging findings with those of prior images from other modalities, along with lab results, biopsy findings and key aspects of the history and physical exam of the patient, according to Dr. Rao.
"Creating this type of data hub could lead to a diagnosis that might otherwise be missed if one just considered the current imaging exam in isolation," Dr. Rao said.
Additionally, future radiologists will take over the complete imaging care of patients in what Dr. Rao called, "total imaging care."
"We need to act like clinicians rather than just image-readers. This is what I mean by 'total imaging care'," she said. "And the good news is that AI and related technologies give us exactly the tools we need to make this vision a reality."
To illustrate how these two initiatives, the digital diagnostic data hub and total imaging care, would work, Dr. Rao asked the audience to fast-forward 25 years imagining that her granddaughter, Priya, was an early career radiologist.
While future radiologists will start the day in a familiar way, clicking through the list of cases at their reading stations, AI algorithms will have replaced older methods of decision support and prioritized their worklists. For some cases, AI will also have automatically measured lesions against the patient's prior exams and suggested a diagnosis based on similar findings and proven diagnoses.
Dr. Rao noted that the imaging report of the future will include image-based responses that incorporate molecular, therapeutic and physiologic parameters for each patient. She speculates that in the future, the radiologist's email and mobile phone number will appear at the bottom of every report to remind patients that radiologists are physicians who are accessible to them.
"I believe AI's most important impact on radiology will be to enable us to work more efficiently and effectively," Dr. Rao said. "This will in turn mean that we will have more time for so-called noninterpretive activities – the kinds of things that will enhance our value and visibility in the patient care continuum."
Practicing at the epicenter of care—providing value to both the patient and other physicians—continues to be radiology's longstanding goal, according to Dr. Rao, and should provide inspiration for radiologists to do the right things today to make this vision come true.
"We'll need to embrace AI rather than fear it," she said. "We'll need to recommit to the patient-centric model of radiology. We'll need to develop the necessary ethical and medicolegal standards for protecting data as well as machine learning algorithms.
"Importantly, we'll need to form new cross-sector partnerships with colleagues in other specialties," Dr. Rao concluded. "We can get there, but work remains ahead of us."