The Annual Oration in Radiation Oncology was dedicated to the memory of Seymour H. Levitt, MD, who died in September 2017.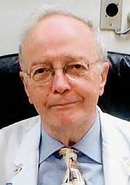 Dr. Levitt was a compassionate and gifted clinician whose distinguished career affected the lives of countless patients and radiology trainees. His work significantly advanced the field of radiation oncology, particularly in breast and prostate cancer treatment.
A native of Chicago, he earned his medical degree at the University of Colorado in Denver, and completed his internship in internal medicine at Philadelphia General Hospital. After serving as a Captain in the U.S. Army in internal medicine in Germany from 1955 to 1957, Dr. Levitt completed residencies in internal medicine and radiology at the University of California, San Francisco, followed by a clinical fellowship with the American Cancer Society.
He spent most of his career at the University of Minnesota Medical Center in Minneapolis as professor and head of the Department of Therapeutic Radiology, where an endowed chair in clinical radiation oncology was created in his name.
As a member of the RSNA Board of Directors he served as the liaison for the annual meeting and as president in 1999. Dr. Levitt steadfastly supported the RSNA R&E Foundation, and he was chairman of the Board of Trustees in 2003.
An international leader in radiation oncology, Dr. Levitt was awarded gold medals from RSNA, the American Radium Society, the American Society of Therapeutic Radiation Oncology, and the American College of Radiology. He delivered the RSNA Annual Oration in Radiation Oncology in 1985.