Using readily available imaging biomarkers to guide therapy and treatment plans, radiologists may take an active part in supporting early and accurate diagnoses of conditions causing cognitive impairment.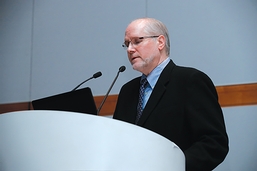 "MRI-based biomarkers have begun to transform the role of radiologists from passive bystanders to active participants in dementia diagnosis and follow-up," said John Ulmer MD, professor of radiology at Medical College of Wisconsin (MCW), Milwaukee.
In an information-packed Sunday session supported by copious case studies, Dr. Ulmer discussed the challenges neurologists and neuropsychologists face in diagnosing neurodegenerative disorders, particularly in the very early stages when patients may present with confusing and overlapping clinical symptoms of cognitive impairment and in cases of subjective cognitive impairment (SCI) by the patient without documentable neurological or neuropsychological abnormalities.
According to Dr. Ulmer, in the past, dementia diagnosis was based largely on clinical classifications, with supporting evidence from patient history, neurological examination and cognitive testing. However, he noted that it is also important for radiologists to recognize the power of evolving imaging biomarkers.
Early diagnosis is important for patients to try to establish prognosis and support the early initiation of a treatment plan, particularly with the anticipated development of new drug therapies.
"Specific regions of the brain, known to be affected by neurodegenerative syndromes, are difficult to characterize early in the disease by qualitative morphological assessments on standard imaging alone," Dr. Ulmer said. "With the development of volumetric, metabolic, functional and microstructural techniques, these known patterns of brain involvement can be detected early in the disease course."
Making the Case for MRI-Based Biomarkers
In addition to being a highly accessible and cost-effective approach, Dr. Ulmer said that MRI biomarkers can be differentiating by revealing patterns of brain involvement otherwise not appreciated with subjective analysis.
He reviewed a variety of cognitive neurodegenerative conditions and their related pathologies, neurodegenerative locations/topography and diagnostic features. Despite apparent similarities between conditions, more thorough examination can reveal notable aspects that allow for differentiation.
Dr. Ulmer provided a brief look at 11 diagnostic dilemmas in dementia that may be clinical targets for biomarker applications. In one example, he noted that behavioral variant frontotemporal dementia (bvFTD) and atypical Alzheimer disease (AD) presentations may be difficult to distinguish clinically. Another case showed a 67-year-old with SCI of memory complaints that clearly demonstrated parietal and frontal lobe volume loss and corresponding white matter microstructural abnormalities revealed by MRI biomarkers.
One case of a 62-year-old patient presenting with poor behavioral control and a cognitive profile of executive dysfunction and apathy. The patient's memory was intact, though FDG-PET showed tempoparietal hypometabolism consistent with typical AD. However, results of the MRI profile suggested bvFTD versus frontal variant AD, and ultimately, the consensus for the diagnosis was bvFTD.
In another example, Dr. Ulmer demonstrated that non-fluent and semantic primary progressive aphasia (PPA) subtypes of FTD may present with overlapping speech/semantic impairment symptoms and mimic logopenic PPA (usually due to AD). "Distinguishing among the PPAs has prognostic implications and imaging biomarkers for neurodegenerative locations and topography can provide significant benefit in the clinical diagnosis," he said.
The current MCW diagnostic algorithm for mild cognitive impairment or early dementia begins with MRI to rule out other causes and establish a biomarker profile to determine if the profile favors a diagnosis. For confusing cases, PET imaging, neuropsychological follow-up and/or MRI biomarker follow-up is indicated.
"For radiologists to fully exploit these techniques requires a knowledge-based perspective of pathologies underlying neurodegeneration as well as the clinical classifications and dilemmas faced by our neurology colleagues," Dr. Ulmer said.