Comparable outcomes of two ablation methods combined with advancements in thermal ablation technology may provide a better opportunity for clinicians to tailor treatment of hepatocellular cancer (HCC) to the individual patient.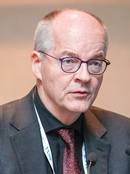 Researchers in Germany conducted the MIRA study, a randomized, blinded, prospective study, comparing microwave ablation (MWA) and radiofrequency ablation (RFA) in the treatment of hepatocellular cancer (HCC). Among the latest technologies in thermal ablation is a system combining MWA and RFA into a single unit.
"With the new development of a single-generator system, which fits all the scientific standards, we wanted to prove the performance of RFA versus MWA in localized HCC," said Thomas Vogl, MD PhD, head of the Department of Diagnostic and Interventional Radiology at Frankfurt University Hospital (FUH) during a Wednesday presentation.
Thermal ablation is often a first-line treatment in HCC where surgical resection is not an option. While RFA is the most frequently used method, advancements in MWA technologies allow for greater ablation volumes and may result in a lower rate of local recurrences over time.
Led by Dr. Vogl, researchers performed CT-guided thermal ablation on 50 subjects with HCC: 39 male and 11 female. In total, there were 50 lesions with a mean diameter of 2.05 cm. Half of the subjects were treated with RFA while the others received MWA.
The team first performed MRI control to record the location of the HCC. Follow-up MRI was performed 24 hours after ablation and then every three months over the subsequent year recording changes in size, volume, necrotic area, diffusion and ADC value of the malignant lesions.
According to Dr. Vogl, the study results showed that 24 hours after ablation, the mean volume was 49.2 cm3 with 69.9 cm3 for patients treated with MWA and 28.3 cm3 for those treated with RFA.
The entire MWA group showed complete ablation, while the RFA group only had 88 percent complete ablation. Of the total population, only three of the patients had local recurrences — all three were in RFA subjects.
"At this early stage, the numbers may not be statistically significant, but we have to wait and see. Over time, we may see a higher rate of recurrence," Dr. Vogl said.
Determining mortality rates will also take time, but the study reflected a slightly better outcome for the MWA group at 4 percent versus 12 percent for the RFA group. After one year, the survival rates for the MWA and RFA groups were 96 percent and 88 percent, respectively.
Though both ablation methods revealed comparable mortality and complication rates, MWA demonstrated greater ablation volume and lower rate of local recurrences than RFA treatment.
"We were surprised how close the results were for both groups and how well both technologies fitted for the individual patients," Dr. Vogl said.
"The data show there is potential to use a single-generator system and individually decide which patients are better for RFA or MWA," he added. "Of course, financial aspects can play a major role in the selection because of the significantly lower cost of antennas and probes used in RFA versus MWA."