Radiologists looking for insights on getting published in RSNA's prestigious peer-reviewed journals Radiology and RadioGraphics got expert advice during a Wednesday session led by the journal editors.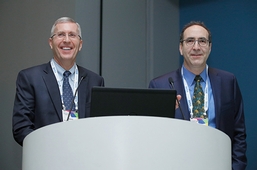 At a minimum, David A. Bluemke, MD, PhD, editor of Radiology, and Jeffrey S. Klein, MD, editor of RadioGraphics, said submissions need to meet the mission of the publication and follow the authors' guidelines, but a few tactics can help an article really shine.
Radiology Accepts Less Than 10 Percent of Submissions
Published since 1923, Radiology features more than 300 pages of peer-reviewed, timely clinical research, both online and in print each month, along with authoritative reviews, editorials and commentaries, as well as experimental studies.
But getting published is no easy feat. Radiology accepts less than 10 percent of the articles submitted each year, Dr. Bluemke said. Getting published in Radiology starts with selecting the right topic. "This can be the hardest part," he said.
Authors should ask themselves questions such as, is the topic is cutting edge? Does it offer new knowledge in an area that is relevant to readers? Then, authors should do an extensive literature review to prove that it has not already been done before.
Next, Dr. Bluemke said, first impressions count, so write a strong abstract. "A poor abstract is the single most common mistake in a manuscript that is not accepted," he said.
A good abstract will be short and readable, but clearly define the paper's purpose, methods and results. The conclusion must make sense and tie back to the paper's purpose. A concise, catchy title is helpful, but that does not mean exaggerating with hype words.
Avoid words like 'novel,' 'never been studied before,' or 'the first' and let the research speak for itself, Dr. Bluemke said.
And authors shouldn't necessarily work on their abstract alone. In fact, Dr. Bluemke suggests getting extra sets of eyes on an abstract and paper before it is submitted to catch errors.
Even if an article meets all the necessary criteria and reviewers have strong comments, it might not be published, since the Radiology Editorial Board must prioritize the journal's limited space.
In 2019, Dr. Bluemke said Radiology will be looking for more images, shorter articles, and alternative ways of telling stories, including through podcasts. For more information about submitting to Radiology, visit RSNA.org/Radiology.
RadioGraphics Offers Educational Focus
Launched in 1981, RadioGraphics, is a more practice-focused publication and one of the premier education journals in diagnostic radiology Dr. Klein said.
While the journal does consider unsolicited submissions, more than 90 percent of the articles published in RadioGraphics are invited to submit based on education exhibits displayed at the RSNA Annual Meeting. The publication's editorial board identifies hot topics in advance and reviews posters and subspecialty panels during the meeting. This year, 19 subspecialty panels and 1,950 exhibits were reviewed by more than 400 panelists before extending invitations to submit to the journal.
As RSNA's CME journal, RadioGraphics articles must also include learning objectives and an activity such as a quiz with multiple choice questions.
"Writing good questions is one of the most problematic parts of our submissions," Dr. Klein said. He pointed authors to several primers the journal has published on the topic.
Strong organization and context that show the need for a particular article can also help it get noticed, he said.
In 2019, Dr. Klein said RadioGraphics, plans to add a section with brief articles highlighting important updates and new information on previously published articles.
To learn more at RSNA 2018, the session, "RadioGraphics: Publication Information for Potential Authors," will be held on Thursday at 1:30 p.m. in Room E353A. More information is available at RSNA.org/RadioGraphics.