Radiologists at George Washington University (GWU) in Washington, D.C., have successfully performed minimally invasive spine-based procedures aided by head mounted display augmented reality (HMD-AR), a new technology that projects holographic images of underlying anatomy directly onto the patient to help guide needle placement.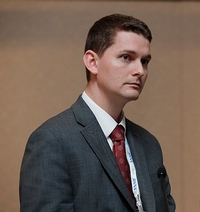 Medical student Jacob Gibby discussed GWU's development of HMD-AR and the outcomes of the team's first spinal procedures performed with the new technology on Wednesday afternoon.
"Augmented reality has the potential to aid in diverse spinal procedures commonly performed by radiologists, reducing overall radiation exposure by significantly decreasing the need for, or completely eliminating, fluoroscopic guidance," Gibby said.
With HMD-AR, interactive holographic images of underlying anatomy are projected directly onto the patient's body in real time, enabling the radiologist to approach the target in a 3D field of view.
After developing the application over the last few years, Gibby and his father Wendell A. Gibby, MD, a GWU neurointerventional radiologist, and Steven T. Cvetko, PhD, of Novarad applied HMD-AR technique to four common spinal procedures: sacroiliac (SI) joint injection, facet joint injection, percutaneous discectomy approach, and lumbar puncture.
"These procedures are typically performed with fluoroscopic guidance," Gibby said. "In addition to subjecting the patient to radiation, fluoroscopy only allows the radiologist to see bony structures."
To perform the HMD-AR procedures, patients underwent CT imaging with QR code localizers co-registered with radiopaque markers. The CT images were processed with software to create 3D images and then needle trajectories created with PACS were embedded into the holographic images. The final pre-operative images were uploaded to the headset (Microsoft HoloLens™) to be worn by the surgeon during the procedure.
"Automatic registration using the QR code allows the HoloLens to instantly put images in correct spatial orientation," Gibby said.
Dr. Gibby first performed the spinal procedures with the HMD-AR technology on a lumbar model without the aid of fluoroscopy. Follow-up CT imaging was used to determine the accuracy of the injection trajectory in the lumbar model.
After confirming the accuracy of injections using the model, Dr. Gibby began performing spinal procedures on patients with follow-up fluoroscopic imaging to confirm correct needle placement. Fourteen procedures have been completed to date.
"We have had phenomenal results with each procedure," Gibby said. "The HoloLens highlights relevant anatomy and critical structures and maps a trajectory for the needle in real time and actual space."
Gibby said future applications for HMD-AR include MR-guided breast and liver biopsies.
"AR has the potential to be a landmark change in medicine, streamlining interventional procedures with greater precision and efficiency," Gibby said. "Radiologists have the opportunity to take the lead on moving the technology forward."