Many radiologists see 3D printing as an evolving part of their practice — an innovative new way to display imaging, contribute to patient care and offer clinical value to their medical and surgical colleagues. Yet despite these benefits, its use in radiology is not a global phenomenon.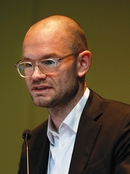 "Compared to Europe, there are far more hospitals in North America that have in-house 3D printing labs," said presenter Philipp Brantner, MD, with the University Hospital of Basel, Switzerland, during a session on Wednesday.
Dr. Brantner noted that the RSNA 2018 agenda features more than 50 sessions on 3D printing, covering everything from the basics of starting a 3D printing lab to practical applications, quality assurance, research and education. In comparison, he said there were only 12 sessions on 3D printing during ECR 2018, the European Society of Radiology's annual congress.
So why the difference? Dr. Brantner attributes the aberration partly to a lack of funding and partly to the European Union's fragmented system of national regulations. But a key differentiator is the culture of innovation and collaboration found in many U.S. hospitals.
"Most likely, the intention to explore the use of 3D printing is here in Europe, but it must be balanced against a health care system defined by cost pressures and a general lack of time for such endeavors," he said.
This isn't to say that 3D printing is non-existent in Europe. Because the threshold for getting started with 3D printing is low, there are a number of medical centers across the continent that have fully embraced the technology.
"With just a high-quality, low-cost printer and open-source software, we can already print basic 3D anatomical models," Dr. Brantner said. "These models can then be used to demonstrate the value of 3D printing to diagnostics, thus getting more referring physicians interested."
Where to Start? RSNA's 3D Printing Special Interest Group
To encourage further uptake of 3D printing in Europe, Dr. Brantner suggests participating in RSNA's 3D Printing Special Interest Group (SIG), whose 300 active members include radiologists, engineers, physicists, technologists and representatives from the 3D printing industry, can serve as a bridge across the pond.
"The 3D Printing SIG provides valuable resources for European hospitals looking to get started with 3D printing and to network with fellow 3D printing enthusiasts," Dr. Brantner said.
He also noted that the European division of the SIG is currently supporting 3D printing topics in national and European radiology societies.
"Being embedded in the health care system, radiologists are uniquely positioned to manage the entire digital workflow – from imaging acquisition to the eventual 3D printed product," added Dr. Brantner. "With 3D printing here to stay, whether you are in Europe, the U.S. or somewhere else, it is essential that you be proactive in embracing the technology and integrating it into your practice today."