For many years, surgeons working on the mouth, jaw, face, neck and skull for disease treatment or reconstruction had to rely on CT and MRI to assist them with the intricate surgical dance among the nerves and muscles of the face and jaw.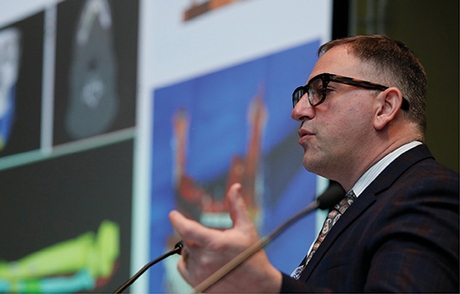 On Wednesday, Jonathan Morris, MD, assistant professor of radiology, Mayo Clinic, Rochester, MN, discussed how 3D printing has opened up a new and interactive way of examining clinical cases in real, three-dimensional space for craniomaxillofacial surgery and reconstruction.
"3D printing provides custom solutions that are patient-specific and will become the standard for craniomaxillofacial surgery and reconstruction, especially when there is a specific pathology," Dr. Morris said.
3D printing is helpful for surgeons to design an operation that will maximize benefits while reducing patient stress by providing a tool to show a patient exactly what the procedure entails.
"For many patients, 3D printing has opened up a world where they can actually see a disease or cancer in their body for the first time," Dr. Morris said. "It gives the patient the opportunity to see the severity of their disease or the delicate positioning of a tumor, but most importantly improves their satisfaction with a procedure because they understand visually what will happen and what the recovery may be."
Onsite Technology Provides Added Benefits
There are also tremendous benefits to having a 3D printing lab onsite in a hospital. The 3D printing lab at Mayo Clinic has increased how quickly patients go from diagnosis to the operating room, because a 3D piece can be printed in days as opposed to weeks by an outside manufacturer.
"Onsite generated, patient-specific intraoperative models can improve outcomes during craniomaxillofacial surgery, shorten time in the operating room, increase the number of patients who can be cared for in an operating suite and increase patient satisfaction," Dr. Morris said.
3D printing also has the added bonus of educating surgical residents and helping them see the previously internal process that a surgeon goes through when preparing for surgery.
"3D printing shortens the gap of trainees from knowledge to experience," Dr. Morris said. "Medical students can actually view what the pathology of a disease looks like and hold it in their hands instead of working with a fixed structure in a jar or a virtual reality simulation and learn as the surgeon walks them through the procedure."
Increased need for 3D printing for craniomaxillofacial surgeries will drive the future of this technology and also the need for point-of-care manufacture of these models.
"Medicine has gone from having very little information pre-surgery to having a complete picture because of 3D printing," Dr. Morris said. "In the future, medicine will continue to push the limits of what is being printed, in what materials, color and at what complexity level."