Radiotherapy is promising in cancer immunotherapy due to its ability to convert the tumor into an individualized, in situ vaccine.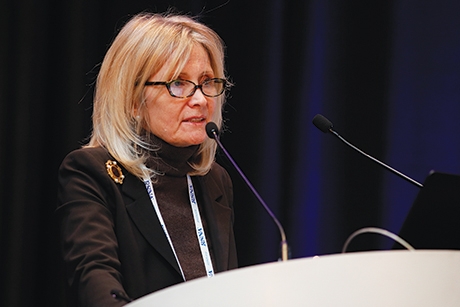 That was one of the main takeaways of RSNA's 2018 Annual Oration in Radiation Oncology, "Radiotherapy to Convert the Tumor into an In Situ Vaccine," presented Wednesday by Silvia C. Formenti, MD, the Sandra and Edward Meyer Professor of Cancer Research and chair of Radiation Oncology at Weill Cornell Medical College.
"It has been known that in order to achieve a maximum response to ionizing radiation therapy in cancer, that a patient needs an intact immune system," Dr. Formenti said. "We've shown that the effect of radiation is sensed by the immune system and can be harnessed to inform the immune system about cancer."
During her talk, Dr. Formenti, also radiation oncologist-in-chief at New York-Presbyterian Hospital and the associate director of the Meyer Cancer Institute, described a history of research in which she and her colleague at Weill Cornell, Sandra Demaria, MD, have investigated the "abscopal" effect, whereby ionizing radiation can reduce tumor growth outside the field of radiation.
"Irradiated tumors can become like an individualized in situ vaccine for the patient," Dr. Formenti said, with the idea being that treating one metastatic tumor with radiation will have an effect on other metastases that were not irradiated.
This effect has been long reported, said Dr. Formenti, "but it turns out to be extremely rare when you use radiation alone." That was probably due to the fact that the radiotherapy dose and fractionation used to ablate tumors wasn't optimal to stimulate the immune system, Dr. Formenti observed.
More importantly, she explained, by the time tumors are established and detectable, they have bypassed control of the immune system and developed a mechanism of resistance.
This led Dr. Formenti and her colleagues to think about combining radiation with some form of immunotherapy. In 2005, they published an article in Clinical Cancer Research in which they described their success using radiotherapy in a primary tumor in combination with an anti-CTLA-4 antibody to inhibit metastases in a mouse model.
Most recently, Dr. Formenti, Dr. Demaria and colleagues found that combining radiotherapy with the CTLA-4 immune checkpoint inhibitor ipilimumab could lead to the regression of metastatic tumors not specifically targeted by radiation. That study was published this month in Nature Medicine.
Specifically, the trial involved 39 patients with chemo-resistant metastatic non-small cell lung cancer who had one metastatic tumor irradiated while undergoing ipilimumab therapy. This combination therapy induced objective responses in 18 percent of the enrolled patients.
In some cases, the patients had durable responses. For example, one 61-year-old patient who presented with brain metastases had all of his disease sites resolve by day 80 of treatment, and was still alive four years later.
"Abscopal effects of radiotherapy are immune-mediated," Dr. Formenti concluded. "And optimal radiotherapy dose and fractionation during immune checkpoint blockade enhance the chances for successful immunization."
Furthermore, she added that the combination of radiotherapy and immunotherapy leverage both innate and adaptive immunity with the induction of neoantigens that can be recognized in human beings and "convert the tumor into a vaccine."