Since its approval by the FDA in 1988, gadolinium-based contrast agents (GBCAs) have been used in MRI for diagnosis and treatment guidance in more than 300 million patients worldwide. However, following a 2014 report showing that gadolinium is deposited and retained in the brain, controversy has swirled around the contrast agent.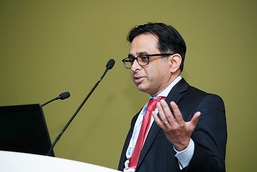 "There have been reports from patients with side effects that they attribute to the gadolinium contrast agents which, needless to say, catches our attention as radiologists," said Max Wintermark, MD, professor of radiology and chief of neuroradiology at Stanford University, who co-moderated a Wednesday Controversy Session, "Gadolinium for MR Examination: To Give or Not to Give."
Although in 2006 it was documented that patients with renal insufficiency are unable to filter some types of gadolinium agents from their bodies, according to Dr. Vikas Gulani, MD, who also spoke at the controversy session, there is little evidence regarding the safety of gadolinium in patients with normal renal function.
With this in mind, when it comes to using gadolinium for MRI examination, the question remains: to give or not to give?
Dr. Gulani, a diagnostic radiologist at Cleveland University Medical Center, advised radiologists to use caution when making the decision. "GBCAs provide crucial, life-saving medical information," he said. "Each time a gadolinium-enhanced MRI study is considered, it would be prudent to consider the clinical benefit of the diagnostic information or treatment result that MRI may provide against the unknown potential risk of gadolinium deposition in the brain for each individual patient."
Discussing Risks with Patients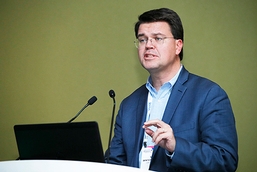 Echoing this approach, Dr. Wintermark explained that when he discusses the use of GBCAs with a patient, he always notes that there are risks associated with both using and not using gadolinium.
"The news focuses on the risk of giving gadolinium and not on the risk of not giving it," Dr. Wintermark said. "This is why I always explain both sides to the patient, so they can make their own informed decision."
According to Dr. Wintermark, it is the radiologist's job to make sure gadolinium is only given when it will provide both an important piece of information and make a difference in management.
"If you give the gadolinium and you make a great diagnosis, but the treatment of the patient doesn't change, there probably wasn't a good enough reason to give it," he explained.
Drs. Wintermark and Gulani agree that additional research is needed to elucidate the mechanisms of deposition, the chelation state of these deposits, the relationship to GBCA stability and binding affinity and theoretical toxic potential — which may be different for different GBCAs
.
"Until we fully understand the mechanisms involved and their clinical consequences, the safety and tissue deposition potential of all GBCAs must be carefully evaluated," Dr. Wintermark said.
"As gadolinium deposition remains a relatively undefined clinical phenomenon, and accurate and complete data may be useful as investigations proceed, the identity and dose of GBCA used should be recorded after each intravenous administration," Dr. Gulani added.