Presentations bring industry partners and attendees together in several formats
This week, more than 50,000 individuals from around the world are in Chicago for RSNA 2018. Today more than ever, RSNA and industry partners are collaborating to deliver high quality learning opportunities to meeting attendees.
Throughout the week, there are hundreds of opportunities to attend scientific poster sessions, hands-on courses, educational courses and plenary lectures. There are hundreds of exhibitors and industry partners to visit on the exhibit floor.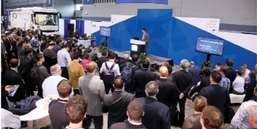 In many ways, it is one-stop shopping for anybody who wants to learn the latest in what is happening in radiology.
Among those providing the most cutting-edge insights are industry partners, some of whom are relatively new to the specialty. One more recent addition to the meeting is Google Cloud.
"We are building a platform for managing health care data," said Arie Meir, PhD, a product manager at Google Cloud. "Our goal is to enable providers and solution developers to organize their information and make it universally secure, accessible and useful."
During this year's meeting, Google Cloud has hosted a corporate symposium that was open to all RSNA attendees as well as a presentation in the Machine Learning Showcase Theater.
Longtime exhibitor Canon Medical Systems USA has a simple message for the radiology community: The key to the future is collaborative imaging.
"We want to make radiology more relevant to cardiology, neurology, oncology —all the specialties," said Satrajit Misra, vice president of marketing for Canon Medical Systems. "We want to help them deliver a better suite of services to drive the large health networks to more patient-centered care."
Canon is doing that with a series of demonstrations on the exhibit floor, but also with two sessions that allow participants to earn continuing medical education (CME) credits around the same topic.
Google Cloud and Canon are just two of dozens of industry partners that will provide glimpses of the innovations they are developing, and they are doing so in a wide variety of formats.
Along with corporate symposiums, there are:
Vendor workshops, classrooms set up on the exhibit floor that allow attendees to experience hands-on product demonstrations;
Showcase presentations, 20-minute demonstrations of company-provided solutions in the Machine Learning Showcase Theater and the 3D Printing & Advanced Visualization Showcase Theater, both on the exhibit floor; and
Lunch & Learn sessions, where industry partners invite attendees to enjoy lunch as they present new informational and procedural content.
These vehicles for delivering content offer many benefits to the attendee, allowing them to learn from experts about some of the technologies and techniques that currently are being developed and receive hands-on training on the newest tools and equipment.
At the same time, industry partners have the opportunity to interact and obtain feedback from those in the radiology community they are working to serve.
"I see us learning from each other," said Michael Muelly, MD, a radiologist and product manager at Google Cloud. "This helps the tech industry to better understand the health care needs, and the health care institutions to gain insight into what tech can do for them."