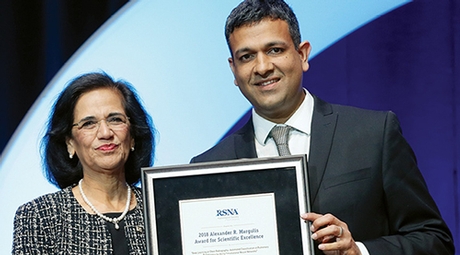 In his Radiology research, "Deep Learning at Chest Radiography: Automated Classification of Pulmonary Tuberculosis by Using Convolutional Neural Networks," Paras Lakhani, MD, from Thomas Jefferson University Hospital (TJUH) in Philadelphia, used deep learning — a type of artificial intelligence — using pre-trained convolutional neural networks (CNNs) to identify TB on chest X-rays.
The study, published online in the April 2017 issue of Radiology, has earned Dr. Lakhani the seventh annual RSNA Alexander R. Margulis Award for Scientific Excellence.
"We determined that deep learning with CNNs can classify TB at chest radiography," said Dr. Lakhani, lead author on the study authored with colleague Baskaran Sundaram, MD. "This method means that radiography may facilitate screening and evaluation efforts in TB-prevalent areas with limited access to radiologists."
Copies of the study are available in the Membership & Resources area of the Connections Center.