Non-small cell lung cancer is one of the most common malignancies associated with brain metastases at diagnosis. As doctors explore more aggressive treatment, new research seeks to understand trends in use and outcomes for both whole brain radiation therapy (WBRT) and stereotactic radiosurgery (SRS).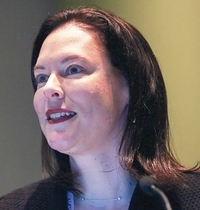 In a Tuesday session, "Modern Treatment Patterns and Overall Survival of Non-Small Cell Lung Cancer Patients Receiving Palliative Radiation Therapy for Brain Metastases at Diagnosis," Pamela Samson, MD, a radiation oncology resident at Washington University in St. Louis, presented the trends observed through a review of data from the National Cancer Database.
The SRS method provides a more focal treatment and can spare normal brain tissue, Dr. Samson said. "It is important in terms of preserving quality of life for as long as possible and ensuring the brain has appropriate local control for a period of time," she said.
The analysis looked at 11,299 non-small cell lung cancer patients with brain metastases at diagnosis who were treated with palliative brain radiotherapy between 2010 and 2014. The analysis found that 85.7 percent of patients received WBRT and 14.3 percent received SRS, meaning that whole brain radiation therapy is still the predominant mode of treatment for these patients.
However, the frequency of SRS increased from 9.9 percent in 2010 to 19.6 percent in 2014, showing it is a quickly growing method of treatment for patients with advanced lung cancer. Factors that were associated with increased likelihood of receiving SRS included increasing age, most recent year of diagnosis, treatment at an academic facility, private insurance, income in zip code, living more than 20 miles from a treatment facility, and receiving chemotherapy.
"We found that oncologists are starting to treat patients with Stage 4 lung cancer in a more aggressive and definitive manner," Dr. Samson said.
Multidisciplinary Care is Key
Independently, Dr. Samson said the analysis showed that patients who received WBRT had a median overall survival of 4.1 months while those who received SRS had a median overall survival of 8.9 months.
SRS however, does not prevent new lesions from forming. When necessary, patients can change their treatment plan to WBRT at a later date if needed, Dr. Samson said.
The National Cancer Database does have its limitations, Dr. Samson said. For example, it does not identify the number of brain metastases that are present at time of diagnoses, which could influence which mode of treatment is used and patient outcomes.
Dr. Samson said multidisciplinary care is key in treating this aggressive form of cancer. Physicians should understand the role SRS plays along with immunotherapy, chemotherapy and other treatment methods.
"Stage 4 non-small cell lung cancer is one of the scariest diagnoses that a person can receive," Dr. Samson said. "But at the same time, given all the recent developments, I want patients to know that we are seeing evidence that we can provide a focal, aggressive treatment that we hypothesize can improve quality of life and is associated with increased overall survival."