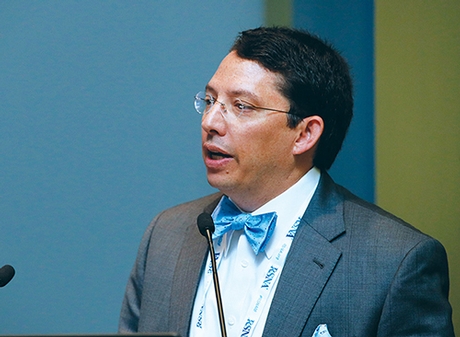 Employment and lifestyle changes over the past two centuries, including increased use of motor vehicles and heavy industrial equipment, have contributed to a rise in cervical spine trauma and the significant financial burden that accompanies it.
Findings from an in-depth examination at a Level I trauma center in Houston offered perspective on the pattern and frequency of cervical spine injuries and may provide a pathway to reduction of unnecessary imaging and improvements in patient management.
"Every day we are faced with diverse imaging appearances in trauma patients that would have been non-existent in earlier years," said Roy Riascos, MD, professor of diagnostic and interventional radiology at University of Texas Health and Science Center of Houston (UTHSC).
"Injuries associated with cervical spine trauma can be devastating and have enduring implications. Focusing our attention on spine trauma is a necessity rather than an option," he added.
Motor Vehicle Accidents Cause Most Injuries
Dr. Riascos and his fellow researchers performed a retrospective analysis of 13,956 patients who underwent imaging for cervical spine trauma at a Level I trauma center. The team examined medical records for 934 patients from the initial study population who had positive CT scans and analyzed them for correlation between demographic, clinical and imaging features.
The results showed subjects between the ages of 21 and 40 demonstrated peak incidence of cervical spine trauma with a male-to-female ratio of two to one.
Not surprisingly, most of the injuries, 66 percent, were caused by motor vehicle accidents. Falls from a height of less than eight feet accounted for approximately 12 percent.
Within the study population, the highest number of vertebral body fractures were due to compression injury. "We identified 438 injury levels in vertebral bodies, especially in C1 and C2 with incidence of C2 injury being most frequent. Body and lateral mass fracture incidence was slightly higher than odontoid fractures," Dr. Riascos said.
A review of injuries to the subaxial spine revealed that C7 was the most fractured vertebral body with 11 percent occurrence followed by C6 then C5. When evaluating for posterior element fractures, transverse process was common.
Drawn from a Level 1 trauma facility, the data look at the most serious injuries and do not account for lower level trauma incidents. "Efficient triaging of patients based on severity of injury is the first step in trauma, and it allows us to focus our resources," said Shekhar Khanpara, MD, a research associate at UTHSC and one of the study authors.
Dr. Khanpara also said that exploring the risk factors associated with spine trauma and understanding the patterns of injury in light of mechanism can provide better insight in patient management and prevent lifelong disability and the mortality associated with it.
"Two decades ago, European countries were facing the same issues with motor vehicle accidents. They have since seen a decrease through stricter vehicular safety rules. However, in the U.S., the incidence is still rising, and even more so in the Houston area where the roads are large and laws are flexible," said Dr. Riascos adding, "The percentage of such accidents is higher than the rest of the country, and we have to make changes to reverse the trend."