While imaging has played a role in understanding the behaviors of addiction, it has, according to Jody L. Tanabe, MD, mainly been performed by psychiatrists, psychologists, and researchers who study addiction.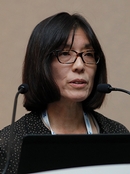 Yet, Dr. Tanabe, who is a professor in the departments of radiology and psychiatry at the University of Colorado School of Medicine in Denver, believes that it is becoming increasingly important for radiologists to understand more behind the science of imaging and addiction, which was one of her goals in co-moderating a special interest session Monday, "Imaging Cognition 2018: Addiction."
This is particularly so when one considers the extent of the nation's current opioid epidemic.
In her presentation Diana M. Martinez, MD, of the Columbia University Department of Psychiatry in New York City, noted that Americans are dying from opioid overdoses in ever increasing numbers — about 50,000 in 2017.
Using PET to Monitor Dopamine Levels
In her own research, Dr. Martinez uses positron emission tomography (PET) as a tool in investigating addiction. "We use imaging to look at dopamine levels and see how they change, and also if it predicts compulsive drug use," Dr. Martinez said. "And the short answer is, yes, it does."
"What the data show is that when we image people who have a long history of addiction, and they haven't emerged from it on their own, they have significantly blunted, lower dopamine levels compared to healthy controls," Dr. Martinez said.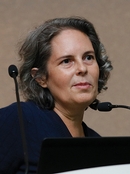 And since people need dopamine to shift between competing rewards, they are no longer able to shift their behavior. "They stick with their habitual behavior even if the reward environment has shifted," she said.
The hope, she added, is that this kind of research can lead to the development of medications based on this neurobiology.
"We've been very excited to see research being done with Adenosine 2A antagonists in Parkinson's disease because what we see in the addictive brain is very similar to Parkinson's," Dr. Martinez said, for example. "But, pharmaceutical companies have shown no interest in seeing whether these compounds can be used for addiction, even though there is a wealth of imaging data that suggests this may be an effective treatment."
Targeted Treatments Using fMRI
Dr. Tanabe discussed how functional MRI (fMRI) imaging can be used to target areas for neuromodulatory treatment, such as deep brain stimulation (DBS) or transcranial magnetic stimulation (TMS), in order to affect addiction by reducing craving.
There have been single or small case reports that DBS can reduce craving and drug use, said Dr. Tanabe. Small studies have also shown that TMS can reduce craving, she said. "Whether it actually reduces drug use is another question."
"These are very small and open label studies," Dr. Tanabe pointed out. "We'll need control trials to explore this further. Imaging-based targeted treatment may become an adjuvant therapy for substance abuse disorder, which is why I think it's very important for radiologists to educate themselves, especially as to what these potential targets might be."
MR Spectroscopy Identifies AUD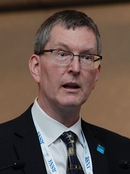 John D. Port, MD, PhD, of the Mayo Clinic in Rochester, MN, discussed the use of MR spectroscopy to measure glutamate, which has been implicated in alcohol addiction.
"And if your glutamate levels are abnormal it's possible your neurotransmitter levels are abnormal," Dr. Port said. "Which would be good to know as we try to sort out which patients [with alcohol use disorder (AUD)] respond to which treatment."
For example, Dr. Port pointed out that with MR spectroscopy researchers have found elevated glutamate in persons with AUD that normalizes on a drug called acamprosate.
"The bottom line is that MR spectroscopy is a very valuable tool for the diagnosis and treatment of psychiatric illnesses," Dr. Port said. "And that includes AUD."