Radiologists are anatomists of the future. That is the premise of researcher Kathryn Darras, MD, who is working to assess the effectiveness of integrating 3D imaging into the anatomy curriculum of medical students.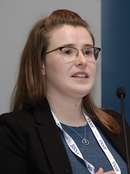 In research presented Monday, Dr. Darras, a radiologist at the University of British Columbia who is pursuing a PhD with the School of Health Professions Education at Maastricht University in the Netherlands, examined the educational value of teaching medical undergraduates anatomy using new 3D imaging technology, such as anatomy visualization tables (AVTs).
"The purpose of our study was to see how we can use novel technology to bring radiology to medical students in a way that is easy to understand, but still connects them to the clinical world," Dr. Darras said.
Typical anatomy education has focused on cadaveric dissection with some integration of ultrasound and 2D images. However, Dr. Darras said that with recent advances in technology, radiologists and medical educators should take advantage of new ways to explore difficult cases with students and expose them to the field.
For example, AVTs can be used to teach anatomy through virtual, or digital, dissection. Real patient CT scans – either normal or abnormal – are loaded onto the AVTs, which function like large touchscreen PACS workstations and allow learners to work together in small groups to manipulate the data and move through the dissection.
Virtual Dissection Valuable to Students
All 292 first-year medical students at the University of British Columbia, were included in the study. Basic Virtual Dissection Curriculum, which focused on normal anatomy, was offered to all students concurrently with their cadaveric laboratories.
Additionally, an advanced Virtual Dissection Curriculum that focused on pathology was offered to students through four extra-curricular sessions. Dr. Darras said 105 students volunteered for the advanced course, although most had no prior exposure to radiology teaching.
A survey following the basic AVT course found that 73.8 percent of students reported that virtual dissection was an effective use of their time and 78.7 said that the virtual dissection portion of class enhanced their understanding of the clinical applications of anatomy.
Among the students in the advanced AVT course, 93.1 percent indicated that virtual dissection was definitely a valuable addition to their learning and 88.5 percent agreed or strongly agreed that virtual dissection improved their understanding of disease and pathology. Most students, 94.2 percent, agreed or strongly agreed that it improved their understanding of the role of the radiologist in patient care.
"We saw that virtual dissection adds to traditional anatomy teaching and we learned more about what kind of cases we should be sharing with students to get them excited about radiology," Dr. Darras said.
Dr. Darras said the advanced AVT course gave first-year medical students an opportunity to explore complex cases they typically would not see so early in their studies. Students commented that the imaging made it easier to understand the pathogenesis of disease.
"Students found the cases interesting and engaging and were inspired to learn more medicine," Dr. Darras said. "There's something about learning in 3D that makes the content more accessible to students. It has given us insight into how we can teach radiology effectively to this population of students."
The research project was supported by an RSNA Research and Education (R&E) Foundation grant. Dr. Darras received the RSNA Trainee Research Prize for her study.