Brachytherapy is an essential component of treating locally advanced cervical cancer. In a session on Monday, one researcher presented results of a study gaging the impact of raising brachytherapy dose rates for high-risk and poor-responding patients.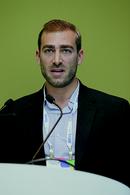 In his session, presenter Zachary Horne, MD, radiation oncologist at the University of Pittsburgh Medical Center's Hillman Cancer Center, discussed a retrospective review of cancer treatment in patients who received the higher dose of brachytherapy.
Updated GEC-ESTRO guidelines recommend that the dose to 90 percent (D90) of the high risk clinical target volume (HRCTV) be at least 85Gy with even higher doses for poor response to external beam radiation.
Such targeted radiation treatment of cervical cancer is important because of the close proximity of the cervix to other organs including the bladder and rectum, Dr. Horne said. As dosage recommendations increase, it is important to study how women are effected, both short- and long-term.
"It's this delicate balancing act where you have to try to optimize outcomes, but also not hurt anybody," he said.
Dr. Horne's retrospective research looked at 250 women who underwent high dose-rate brachytherapy for cervical cancer between 2007 and 2017 with evaluable dosimetry. He found that the median follow up was 27.5 months and that the overall survival at two years was 84.9 percent (72.4 percent at five years).
In his research, Dr. Horne only examined patients treated by Sushil Beriwal, MD, a radiation oncologist he works closely with at the University of Pittsburgh Medical Center. Given the small study size, Dr. Horne said they did not find statistically significant changes in outcomes due to higher dosing, but it did make a difference in a few patients.
"In some of the women with very aggressive tumors, they did seem to do better, but there were just so few of them in our study," Dr. Horne said. "It will probably require additional analysis and more patients to learn more."
Although survival increased with higher doses, Dr. Horne said they found that for most cervical cancer patients, adverse factors such as adenocarcinoma histology and large tumor size, among others, play a role in outcomes. Those patients with higher-risk and poor-responding cervical cancer will require different methods of therapeutic intervention.
"Higher brachytherapy doses may not be able to overcome poor response to chemoradiation," Dr. Horne said.
Dr. Horne said ongoing research in Europe and the U.S. will be needed in order to continue to study dosing impact in patients who respond poorly to other forms of treatment for aggressive cervical cancer.