A CT radiomics model is more effective in predicting disease-free survival in patients with early-stage lung cancer than traditional clinical staging, according to research presented Monday.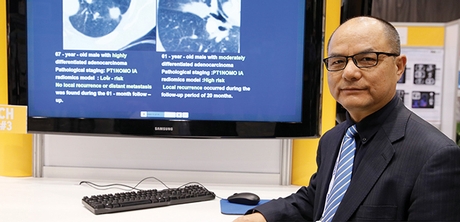 Lung cancer is traditionally staged through the Tumor-Nodes-Metastasis (TNM) method, in which three variables are used to assign a stage to the cancer, ranging in increasing order of severity from 0 to IV. But this approach has limitations.
"The TNM method predicts the prognosis according to the size and extent of tumor invasion, lymph node metastasis and distant metastasis," said study co-author Xueguo Liu, MD, PhD, from Sun Yat-sen University in Zhuhai, China. "Even the same-staged solid lung cancers with the same treatments show different curative effects and metastatic behavior. TNM stage is not able to fully reflect the intratumor heterogeneity, which may result in therapeutic failures."
Heterogeneity is one of the many features of a tumor that can be assessed through radiomics or the conversion of images into data that can be mined and analyzed with the help of computers.
Dr. Liu and colleagues recently developed a CT radiomics model in collaboration with research scientists from GE Healthcare China led by Xin Li, PhD, for patients with stage I lung cancer. They used CT scans to train and test the algorithm, maximizing the effectiveness of the training set through the use of a random forest model, a powerful machine learning algorithm that helped select radiomics features significantly related to prognosis.
They then retrospectively evaluated the performance of the radiomics model in predicting disease-free survival and compared it with traditional clinical staging through the TNM method in 109 cases of stage I solid lung cancer.
Radiomics Can Guide Treatment Decisions
The researchers followed the patients for up to six years and found that 10 of the 385 radiomics features were significantly associated with disease-free survival. The model was able to distinguish between patients at high and low risk of cancer recurrence, which is important in determining the appropriate course of treatment.
"This radiomics model can predict disease-free survival of stage I solid lung adenocarcinoma better than traditional clinical staging," said Dr. Liu. "Radiomics can be used to identify potential biomarkers to predict prognosis of early stage solid lung adenocarcinoma patients after surgery."
More research is needed, but Dr. Liu and colleagues believe the model can play a role in guiding treatment decisions for patients at a high risk of disease progression.
"I think this radiomics model has good prospects," Dr. Liu said. "It can optimize the existing pathological staging methods, improving the accuracy of predicting prognosis, and predict tumor heterogeneity, assisting in the stratification of treatment plans."