Combining analysis from both dynamic CT myocardial perfusion imaging (CTMPI) and CT coronary angiography (CCTA)-derived fractional flow reserve (CT-FFR) is a promising technique for predicting major adverse cardiac events (MACE) in patients with coronary artery disease, according to research presented Sunday.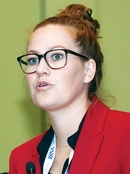 In her presentation, Marly van Assen, MSc, Medical University of South Carolina, Charleston, reported that while CTMPI has a higher predictive value for MACE compared to CT-FFR, the combination of CTMPI and CT-FFR is more accurate in predicting MACE in patients with coronary artery disease than either alone.
According to van Assen, CCTA alone is a poor predictor of the functional significance of a stenosis, while CTMPI and CT-FFR provide functional information. She also noted that CTMPI and CT-FFR can play a role not only in diagnosis, but in prognosis, as well.
"There has been a big switch from anatomical evaluation [of coronary artery disease] to functional evaluation, and both perfusion and CT-FFR are two of the big up and coming topics on the functional side of coronary artery disease evaluation," van Assen said. "And there are few studies comparing the two."
"We do a lot of CT-FFR and perfusion at our institution," she added. "And we wanted to compare them side by side and see if we get the same outcomes."
In this study van Assen and her colleagues analyzed results from 81 patients who underwent CCTA and stress dynamic CTMPI with a follow-up of 18 months or until MACE occurred. CT-FFR was computed for each coronary artery.
Combined Approach Shows Promise
Of the 81 patients in the study, 25 (31 percent) experienced MACE. van Assen and the researchers found that CCTA alone had an area under the curve (AUC) of 0.655 for predicting MACE, with a sensitivity and specificity of 56 percent and 75 percent, respectively. The CT-FFR AUC for predicting MACE was 0.703, with a sensitivity and specificity of 64 percent and 80 percent, respectively. And dynamic CTMPI had an AUC of 0.812 with a sensitivity and specificity of 88 percent and 75 percent, respectively.
The combination of CCTA, CT-FFR, and CTMPI resulted in an improved AUC of 0.857 compared to CT-FFR and CTMPI alone.
"Both CT-FFR and CT perfusion increased hazard ratios and increased prognostic value, while perfusion actually showed the best or highest hazard ratio," van Assen said. "But CT-FFR and perfusion both significantly added value to CCTA."
The researchers concluded that combining CT-FFR and dynamic CT perfusion imaging "is a promising approach for the prediction of MACE in patients with coronary artery disease."
One of the issues with CT-FFR is that it is currently not possible in patients with coronary stents and bypasses, van Asssen noted. "So, perfusion studies could have a big role in these patients," she said.
However, CT perfusion also incrementally increases radiation dose beyond that of CCTA. "So, we would suggest that it is a per patient decision on what would be most valuable to that patient," she said. "But, both studies add value compared to the CCTA."