Addressing the audience in Arie Crown Theater on Sunday, N. Reed Dunnick, MD, chair of the RSNA Research and Education (R&E) Foundation delivered an update on Foundation activities.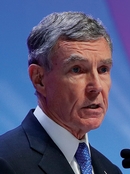 "Nurturing both research and education is key to ensuring that the specialty thrives," Dr. Dunnick said. He recognized former R&E grant recipients Drs. Deborah Levine, Carolyn Meltzer and David Yousem, whose remarkable professional accomplishments will be honored this week. Also Dr. Sarah Donaldson, whose tremendous leadership and support guided the Foundation over the years, will be awarded an RSNA Gold Medal.
Dr. Dunnick noted the importance of continued support for the Foundation to sow more seeds for future leaders of the specialty.
"Current R&E grant recipients are envisioning tomorrow's radiology today, and they will shape the future of the specialty," he said.
One example is Dania Daye, MD, PhD, who is applying quantitative image analysis and machine learning techniques to discover ways to optimize prognosis prediction and treatment decisions for metastatic colorectal cancer patients through minimally invasive methods. Dr. Daye's research is funded by an RSNA Research Resident Grant.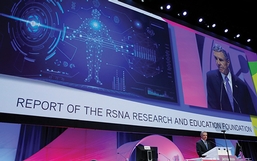 He also highlighted Rupa Radhakrishnan, MD, who secured an RSNA Research Seed Grant to identify MRI biomarkers that can help predict withdrawal symptoms in infants exposed to opioids.
These forward-looking projects will help ensure radiology is at the forefront of medical discovery in the years to come. In fact, the Foundation invested $4 million this year, for the third consecutive time, in researchers like Drs. Daye and Radhakrishnan.
"Healthy growth, however, requires constant assessment and cultivation," Dr. Dunnick said.
To that end, the R&E Foundation Board of Trustees reimagined the education grant program this year to align the awards with RSNA's education goals. New grants will focus on developing products that can be made available to RSNA members and become valuable resources for the next generation of radiologists.
A recent R&E project is already available through the RSNA Education Center. Richard Duszak, MD, developed a series of Economics and Health Care Policy online courses with the support of an R&E Foundation education grant.
Dr. Dunnick thanked the many individual, corporate and private practice donors who make this level of funding possible and encouraged members to join those donors in supporting the Foundation. He noted that grant recipients report receiving an additional $50 in funding from other sources for every $1 awarded by the Foundation.
"That remarkable return on investment should give you confidence in putting your support squarely behind the Foundation's programs," Dr. Dunnick said.
Meeting attendees can learn about the innovative projects funded by the R&E Foundation and make a gift by visiting the R&E Foundation booth in the Connections Center or by visiting RSNA.org/Foundation.